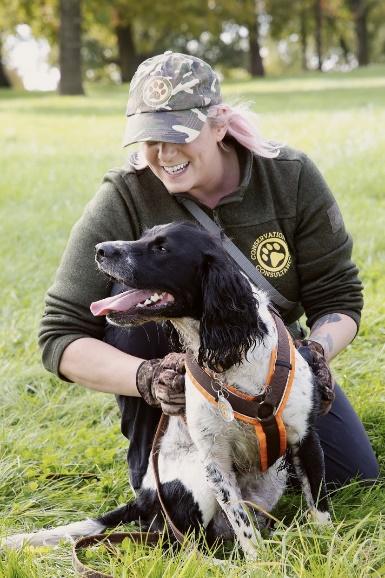 Director, Conservation K9 Consultancy
Louise has over 20 years international experience as a multi-discipline handler, trainer, instructor and project manager, she is the former Director and Head of Training for 12 Years at one of the UK largest specialist detection dog company, she is the founder of bringing conservation K9s to the UK with 15 years of promoting and showcasing detection dogs in conservation and ecology.
Louise trained and operationally handled hundreds of dogs in various specialist disciplines, from explosive detection, live body, cash/tobacco and drugs detection dogs, for different agencies such as border control, the police UK and abroad, HMRC, Trading standards and more.
Increasing her expertise she also has trained and handled in a massive variety of wildlife detection roles, including; bat carcasses at wind turbine sites, the entry and exit point of mice in a building to help with pest control , Ivory, lion skins and Pangolin scale detection for wildlife crime and smuggling prevention in Gabon, Great Crested newt detection for Amphibian Wildlife Conservation Project, cheetah scat detection in South Africa, dormouse nest detection for Cheshire Wildlife Trust and pine marten scat detection for the use by Shropshire Mammal Group, Water Vole detection dogs for Natural Resources Wales, Atkins and Environmental Agency, Amphibian carcass detection for Zoological Society of London, the only Hedgehog Detection Dog in the UK working with Peoples Trust For Endangered Species, as well as biosecurity dogs working for British Antarctic Survey.
With a Diploma in Higher Education in animal behaviour and welfare ,and over 18 years' experience of working and training specialist search dogs, a high level of enthusiasm and a genuine passion for dogs, welfare, conservation and wildlife, Louise is perfectly placed to provide a service that can offer a "Total Wildlife Solution" from supplying her own Existing Search Dog teams for wildlife monitoring projects, to training expert handlers for their own projects and their dogs, to full project management and consultancy of a specific conservation project and target species, as well as courses and mentoring for novices to experts.
Louise can provide specially trained wildlife detection dogs and handlers to conservationists, ecologists, wildlife crime officers and wildlife organisations to help with wildlife detection through a quick, efficient, non-invasive and non-biased method of surveying.
The first ever company to train dogs to work in a conservation role in the UK was started and handled by Louise and it is her belief that her dogs can detect any substance, in any environment, regardless of any distraction, given the right positive training and her enthusiasm, experience and total belief in her canine colleagues.
As well as interests in wildlife conservation, Louise is inspired to try and increase awareness of working dog welfare and mental health through education and training.
Louise is always looking for a new project for to showcase the amazing capability of detection dogs in ecology and conservation, She has travelled the world and been lucky to have worked in some amazing places, training dogs, dog teams, project managing and consultancy, such as South Africa, Gabon, Tanzania, Mozambique, Montana, Poland, Italy, France, Belgium, Germany, Switzerland, Denmark, and Falklands, giving her a wealth of knowledge she is more than willing to share.
As an international speaker and instructor at many Detection Conferences, Wildlife Symposiums and conservation k9 courses Louise is always happy to face a new detection challenge.
Species Detection training projects Louise has Been Involved in:
Bear Scat, Wolf Scat, Lynx Scat, Pine Marten Scat, WaterVole Spraints, Dormouse nest, Bat Carcass, Bird carcass, Live Hedgehog Detection, Japanese Beetle, Great Crested Newts, Pool Frog. Salamander, Invasive Plants, field hamster, Otter, Mammal carcass, and many many more.

Louise is also a Co-Author of two (soon to be three) peered reviewed research papers and has been involved in many more.
A selection of some recent editorials and news articles featuring Louise and her work with Conservation K9s.
New To Conservation K9 Use
Due to an increase in untrained dog and handler teams "trying" the field of conservation and ecology myself and my expert peers, have joined together to create the First Ever UK national Guidelines for the use of conservation K9s in Ecology, Conservation and Research.
CK9C/Trainer/Handler/Researcher- Louise Wilson
WW/Ecologist/Handler/Researcher Nikki Glover
NRW/Handler/Researcher Willow West
We have an extensive review board ranging from experienced international and UK handlers/trainers, governing bodies, academics, NGO's, Welfare organisations, consultants as well as CIEEM and BSI.
This Guidelines paper is under review with international conservation dog handlers who are leaders in this field, and will be a further 8 months before release.
Louise as an expert Consultant who trains individuals on a bespoke prescriptive basis, offering international mentoring and consultancy packages for budding conservation dog handlers. Louise has a partnership with Wessex Water, who employ Louise for regular training, assessments and consultancy for their Conservation K9 handler, Nikki Glover whom has one of the few GCN detection dogs in the UK.

Louise offers unravelled experience in the area of conservation k9s in ecology and research and can offer bespoke training plan and search methodology criteria and guidance. Offering a selection of workshops and training events, demonstrations and presentations UK and worldwide all to increase the awareness of dogs working in conservation and helping stop wildlife crime, working dog welfare and dog and handler wellbeing and success.
CK9C OFFER Unique Specialist Accredited Conservation Dog Handler courses, and other detection courses working with UK Rural Skills accreditation and soon to release partnership with Glyndwr University.

She runs popular Courses and Training in the UK at her training base and HQ where she is in Partnership with NATIONAL TRUST Erddig which her new unique detection training Barn,