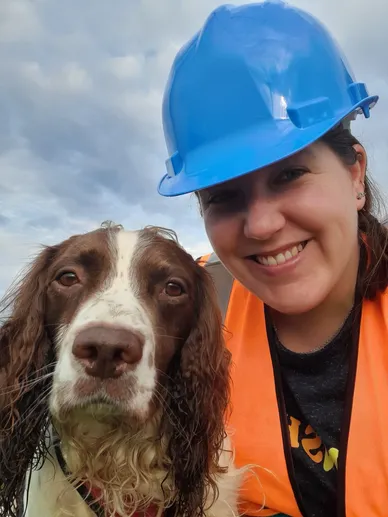 Associate Director, Paws for Conservation
Areas Covered: United Kingdom
Rachael has been working with dogs since 2009 within a training environment and working with professional detection dogs since 2014. Over the years she has operationally handled, trained and produced quality and efficient detection dogs for a variety of disciplines including, Conservation, tobacco, cash, explosives, drugs, live body detection. Being exposed to such a variety of disciplines and environments gave Rachael has a true insight and understanding for working dogs and how individual they all are, their behaviours, pre cursors, final responses etc. This in turn gave her the hands on experience and knowledge to alter approaches to training accordingly and effectively.
She has trained and handled dogs specifically within conservation to detect bat and bird carcass, great crested newt, water vole faeces, live animal detection, pangolin scales, cheetah skin, ivory, illegal meat products and pine marten scat. Rachael was one of two handlers, the other being Aran Clyne who trained and produced the 'world's first scientifically proven great crested newt dog'.
Rachael founded Paws for Conservation in 2020 wanting to solely concentrate her efforts and passion into protecting and preserving vulnerable British wildlife using highly trained specialist search dogs. Her company has been hugely successful in its first couple of years, having produced robust and proven search dogs that have scored highly in efficiency trials and consistently delivered results operationally, meaning that her client base continues to grow through word of mouth due the good reputation and professionalism.
Paws for Conservation ethos are to never compromise on quality, never rush training or take on more work than can be managed, including new target scents if this is at the detriment to the dogs being able to work effectively. Welfare of the dogs and the target species is paramount. No dog will ever be deployed operationally without having been externally tested or observed by a third party. Lastly, learn from your mistakes, there is always more to learn! You are a team.
Rachael plans are to continue to push the boundaries for UK conservation dogs, being open to work collaboratively with like-minded organisations and individuals. Ensuring that high standards are maintained. Looking forward to the journey of growth and development.