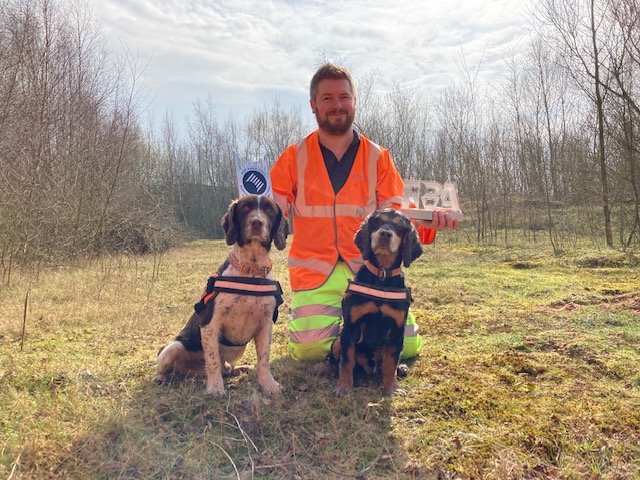 Professional Head of Ecology, Associate Director, ecology: Infrastructure atkins
Areas Covered: UK & Europe
Luke is Fellow of the Chartered Institute of Ecology and Environmental Management and a Chartered Ecologist.  He has worked for Atkins for over 18 years as an ecologist.  He provides technical ecological advice for a variety of development schemes including housing, rail, water, energy and transport for a number of clients. 
 
Luke has a passion for finding innovative solutions for ecological survey and mitigation and has been involved in developing conservation detection dogs since 2017.  He is a member of the Ecology Detection Dogs in Britain and Ireland working group. 
 
Luke was a key member of the core Atkins research team, in collaboration with Wagtail UK Limited and Natural England (NE), undertaking the first scientific research into the use of detection dogs for great crested newt (GCN) detection between 2017 and 2019.  He was accredited under NE research licences for great crested newt conservation detection dog research, training and trials.  This work led to Rocky (a cocker spaniel) and Arnie (a springer spaniel) becoming the world's first ever scientifically proven great crested newt detection dogs.  Following this work, Luke helped obtain and implement the first NE and Natural Resources Wales (NRW) development licences that specified the use of GCN detection dogs as the primary method of GCN search and capture. 
 
Luke plays a pivotal role in promoting and advancing high standards in conservation detection dog work through his involvement in bespoke conservation detection dog training workshops and knowledge sharing through articles, conferences, tv features and podcasts.  He is currently collaborating with Paws for Conservation, under a NE science, education and conservation licence, to develop the next generation of great crested newt detection dogs. 
Ecological consultancy services, including the procurement of conservation detection dog teams.
Working in collaboration with other subject matter experts to help ensure the highest standards of conservation detection dog training, operation, and welfare are achieved and maintained.