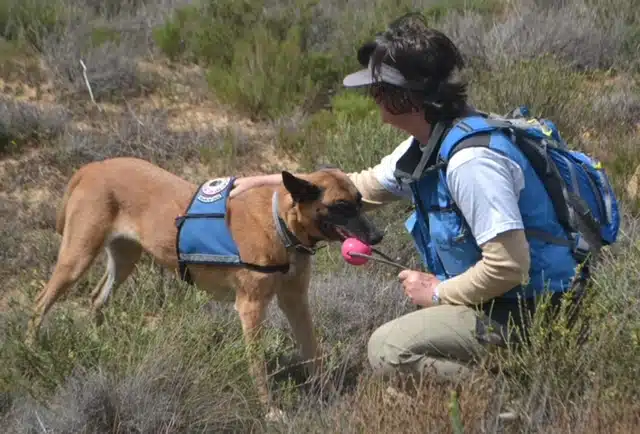 senior landscape conservation intelligence manager in Cape Nature
Areas Covered: South Africa
Vicki currently works as a senior landscape conservation intelligence manager in provincial government in the Western Cape, South Africa heading up a team of ecologists, technicians, and also technical specialists ….. of the four-legged kind!
This position is responsible for the generation of knowledge and the implementation of systems for the assessment of and reporting on biodiversity both in and outside of protected areas.
For decades she had two parallel lives: one in conservation after completing a BSc Honours (cum laude); and one in competitive dog sports of varying disciplines but most notably for agility with her highest achievement being the international IFCS 2008 Overall Dog Agility bronze medallist (maxi height).
In 2012, following on from a devasting fire which decimated the population of a critically endangered but very shy and cryptic tortoise, she combined the two skillsets and initiated the CapeNature Conservation Detection Dog project. This led to the opportunity to gain extensive long term in-field operational experience doing surveys which also forced the need for high accountability standards and the regular monitoring of management effectiveness of this additional survey tool. In 2016, the project won the Mail and Guardian Species Conservation Award for CapeNature, has been featured in numerous printed and video media events. Examples of this can be seen at these two videos:
The conservation detection work scope has included presence/absence, population trend monitoring and search and rescue efforts as well as international consulting. It is critical that the data collected is credible and verifiable as it is used to inform conservation management actions, development proposals, farm planning, species listings, stewardship and provided population estimates and trends.
An ongoing close relationship with Working Dogs for Conservation has been fundamental to the skills and expertise Vicki has gained over the past decade in the field of conservation canine detection. Her focus to date has been on live targets as this is what the need on the ground has dictated apart from a short season on truffles!
Presentations on this work have been given at the following scientific events: Fynbos Forum 2013; Working Dogs in Africa Conference 2018; Turtle Survival Symposium 2020; Wildlife Detection Dogs Conference 2022 and the work is referenced in Chapter 14 Terrestrial Turtles and Tortoises: Hofmeyr and Henen in Reptile Ecology and Conservation. Edited by C. Kenneth Dodd, Jr. Oxford University Press 2016.
Vicki is also a qualified veterinary nurse who has worked in welfare, private practice and the pharmaceutical industry. Now she works on contract part-time in veterinary telemedicine field for a Vets Plus More.  For fun and when time allows, she enjoys hiking and doing cani- cross, as she is a qualified cani-cross trainer and certified canine athlete specialist.  To conclude, it's safe to say dogs and all they encompass have become a way of life for Vicki and if what she has learnt can be of value to others then she is always happy to share!